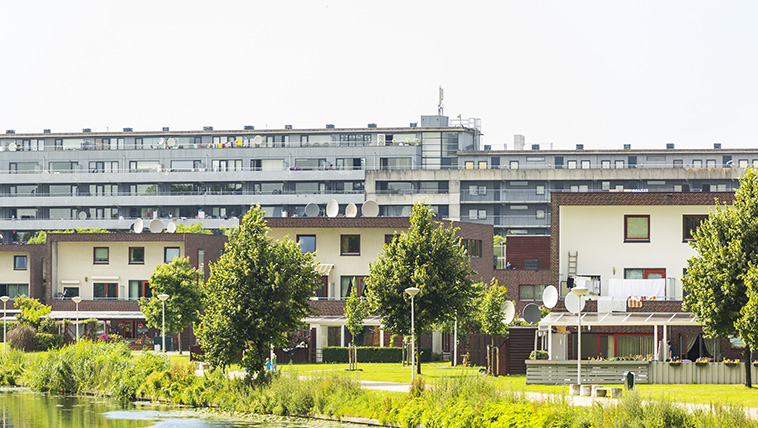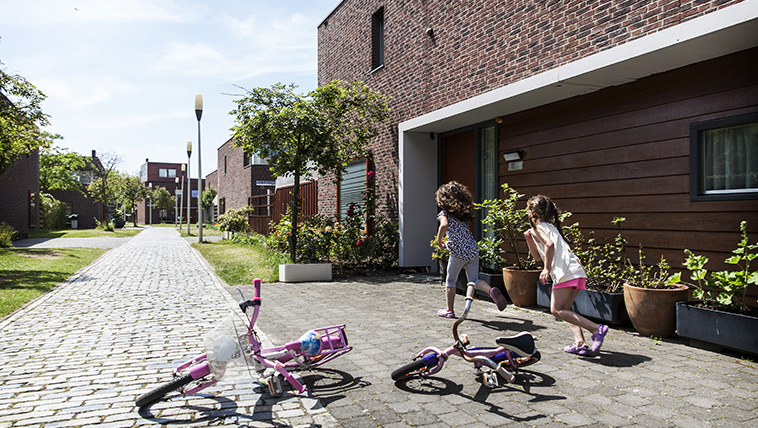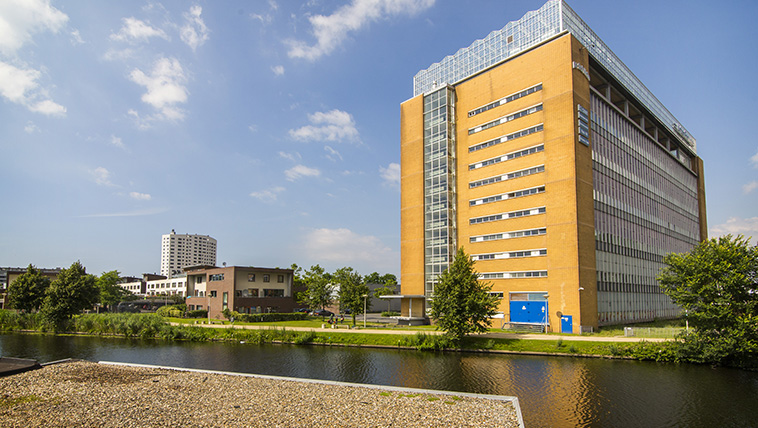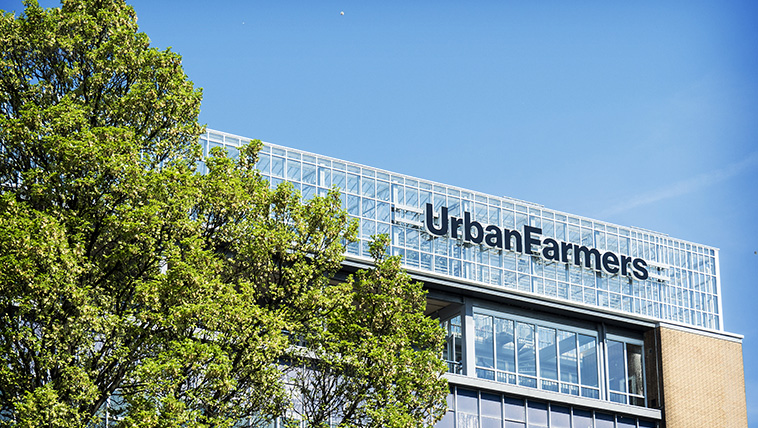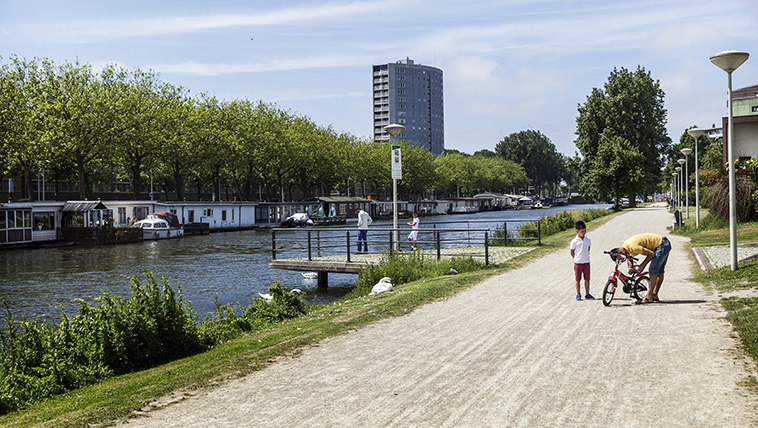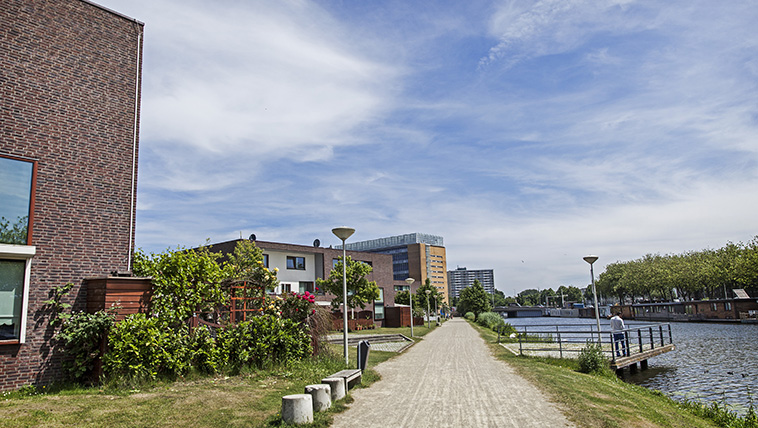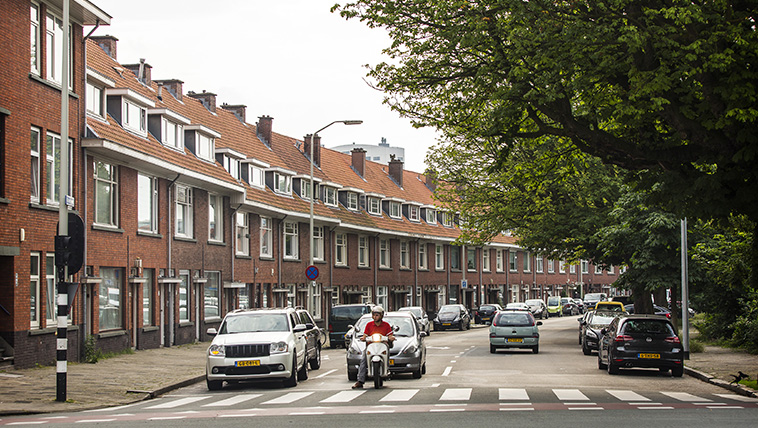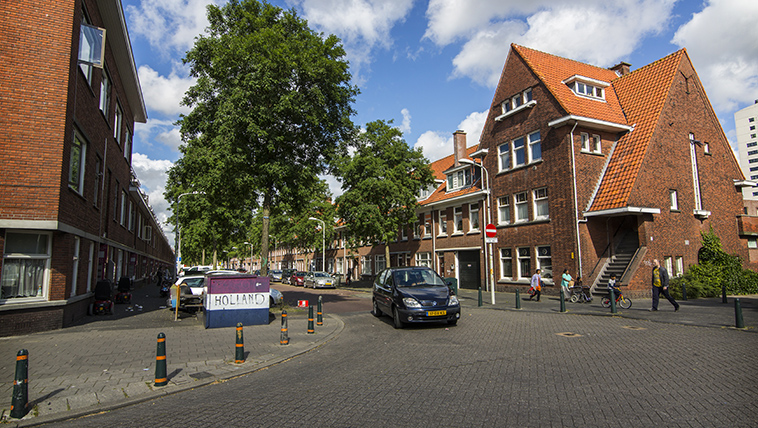 Photography: Valerie Kuypers
The 'Groente- en fruitmarkt' neighbourhood is named after the wholesale market that left the area in the 1990s. The older homes at the edge of the neighbourhood were built in the 1930s and '40s. It is a child-friendly urban neighbourhood with a mix of businesses and different types of affordable housing. Around one quarter of the residential units are single-family homes. The businesses include the largest urban farm in Europe, on the roof of the former Philips Telecommunications building, De Schilde. The farm grows vegetables and farms fish. Another unique element at the edge of the neighbourhood is the Laakkanaal, with its characteristic houseboats.
The neighbourhood has two small supermarkets, but residents can also walk to the Haagse Markt in the adjacent Transvaalkwartier neighbourhood, or to the lively Paul Krugerlaan, with its diverse selection of specialty shops and fashion retailers.
The Groente- en fruitmarkt neighbourhood is not a particularly green neighbourhood, but it is located near the Zuiderpark, where you can stroll, skate, cycle, swim in the swimming pool, picnic or barbecue with family and friends, or just relax on the lawn. The park is also home to Europe's largest free music festival, Parkpop.
If you have a green thumb, but no garden to call your own, you can rent an allotment in the Zuiderpark allotment garden on the Anna Polakweg or in the Groenteweg allotment garden.
In the Groente- en fruitmarkt neighbourhood, the average tax appraisal value of a single-family home is € 196,714 (prices in 2015) and apartments are appraised at an average of € 114,090 (prices in 2015). That makes this neighbourhood one of the most affordable areas in The Hague.
If you are interested in information about accessibility, home prices, demographics and other figures about the neighbourhood, please see the infographic on this page.
What makes the Groente- en fruitmarkt neighbourhood unique:
De Schilde urban farm:

largest urban farm in Europe.
Haagse Markt:

the largest outdoor market in the Netherlands is just around the corner.

Zuiderpark:

a large city park just around the corner, with plenty of opportunities to exercise or relax.